In Dofus, you can choose from one of seventeen different classes upon creating a new player character. Each class is endowed with their own set of unique abilities, as they grow in level, they can invest characteristic points at specific Soft Caps to diverge as different elemental builds (Fire, Air, Earth/Neutral, Water). There are further pseudo-classes in the form of Incarnations and Sidekicks.
Class List
Edit
Icon

Description

Main Class Role and Specialisation

Cra
With archery-based attacks, the Cra uses a bow and arrow to deal damage, control the map, and drain enemies of AP and MP.
Ecaflip
Luck-based gambler with hybrid attacks. Effects are random, which can be beneficial or harmful towards the team or enemy alike.
Eliotrope
Portal-based class. Opens portals throughout the map to allow for easy movement. Has the ability to heal without being Intelligence-based build.
Eniripsa
Cleric who focuses on heals, with an array of spells dedicated to topping allies' health up. Can also buff allies, and has decent map manipulation.
Enutrof
Treasure Hunters who specialise in the acquisition of loot. They have high range, and excel at MP draining their allies. They are able to summon supportive minions.
Feca
Shielded tank class. Able to place glyphs on the map, damaging and draining MP and AP from enemies standing within it.
Foggernaut
Deep-sea explorer able to deploy machinery to help in attacks, map manipulation or healing. Mid-ranged damage dealer, and a very tactical class.
Huppermage
Huppermages are able to combine Fire, Air, Water and Earth to cast spells with multiple effects. Masters of elemental runes, they honour the Krosmic Balance, a mysterious force that aims to maintain balance in the universe. Very versatile attackers.
Iop
Devoted warriors, able to deal very large amounts of damage and buff allies likewise; however, attacks are generally low-to-mid range. Has the ability to drain MP from enemies, thereby locking them into close quarters combat.
Masqueraider
A mysterious class whose face never shows; instead, they wear three different masks to change between long, short and defensive stances.
Osamodas
Focused on summoning minions to battle, this class focuses on improvement of allies and summons alike. Are also able to resurrect fallen allies.
Pandawa
A race of Panda-like humanoids devoted to the Drunken Master style of combat. Their great strength allows them to pick up and throw opponents and allies, making them masters of map manipulation.
Rogue
Smisse Clan offshoot now devoted to the deity Sram. Able to plant bombs, which have the capacity to create walls of damage if placed linearly. Highly strategic class.
Sacrier
Masochistic berserkers that specialise in protecting allies from damage. They can be greatly buffed upon taking damage, and are able to switch positions and pull enemies or allies, making them superb at map manipulation.
Sadida
Conjurers that bring to mind witch-doctors. They specialise in poisoning their enemies by invoking nature herself. They are able to invoke trees onto the battlefield, carving them into dolls that support the Sadida in battle.
Sram
Thieves and assassins that prefer to attack from the shadows, setting traps to defeat the unwary enemy. Generally low range attacked, they nevertheless have the capacity for huge amounts of mobility and good survivability by consistently hiding during the fight.
Xelor
Magi who are acutely aware of and attuned to the flow of time, and mechanisms related to time, such as locks. They are able to manipulate time in order to drain their enemies of AP, or teleport themselves around the battlefield.
| | | |
| --- | --- | --- |
| Icon | Title | Description |
| | Damage | Focus on dealing damage to bring enemies down as quickly as possible |
| | Preventing Movement | Drains MP from enemies to attempt to remove their mobility |
| | Summons | Able to summon minions to aid in battle |
| | Positioning | Deals in map manipulation - pushing enemies, allies, or themselves around the map |
| | Heals | Able to top up health, thereby preventing or delaying death |
| | Tank | Able to withstand large amounts of damage and survive |
| | Protection | Allows to transfer or lower any damage taken by allies towards another target |
| | Improvement | Specialises in buffing allies in order to enhance their abilities |
Class Comparison
Edit
General Overview
Edit
Damage Dealers
Classes that serve as damage dealers, or DD, which includes but is not limited to classes such as Iop and Sram, are better adept at dealing large amounts of damage, whether from close quarters (Iop) or from range (Cra). Below are the three general roles assigned to each class, the most suitable first.
Supporters
Classes that can be labeled as supporters are the Eniripsa, Feca, Osamodas and Sacrier. Despite this classification, all of these classes can be very powerful when fighting independently in battles, especially the Sacrier. Being a supporter simply means that they are much more effective when fighting in a team.
Multi-Purpose
Classes that can serve a variety of purposes, depending on how they are developed, are the Enutrofs and Pandawas. These classes are the most difficult to play.
Enutrofs can be developed into flexible supporters or long range attackers, with MP removal capabilities in both cases. As supporters, they can provide limited defense and healing, as well as boosting the entire team's offense. As attackers, they have very long range and can deal high damage at medium range. To lesser extents, they can fill the shoes of the Osamodas and the Cra, but neither can provide as much support nor deal as much damage at long range. What makes them special is their ability to also disable enemies with MP removal spells. As a bonus, they have superior Prospecting to other classes.
Pandawas have the option of becoming defensive supporters or mid-range attackers. As supporters, they function similarly to the Sacrier, with limited healing, good tanking capability and excellent repositioning abilities. Their advantages are being able to increase damage dealt to enemies and heavily weaken their offense. As attackers, they are able to deal high damage at moderate range. Their resistance to MP loss and their ability to dispel effects on themselves makes them hard to pin down.
Masqueraiders can, just like the Pandawa, take on the role as a defensive supporter or a strong offensive unit. They provide shields to their teammates and themselves while on defense, and can dish out some great damage when going in offense. Their arsenal of spells allows them to maneuver over the map quickly and also allows them to somewhat move allies around when they desire to. Their different masks makes them able to adapt to any given situation.
Specific Factors
Edit
Class
Solo Combat
Team Support
Range
Damage
Evasion
++
Average
+
Limited
Buffs damage, range & Critical Hits.
+++
Long
Best Range
++
Average
++
Average
Attacks reduce range, AP, MP, or inflicts knockback.
+
Difficult
++
Fair
Invisibility detection. Buffs damage, Critical Hits, permanent damage , AP, MP & HP. Provides random effects. Moderate healing with certain builds.
++
Medium
+++
High
++
Fair
Has a knockback attack. Summoning Claw heals allies and distracts enemies. Has potential damage reversal.
++
Average
++
Fair
Has the ability to transport allied attacks across the map via portals and magnify the damage.
++
Medium
+++
High
+
Limited

+
Difficult
+++
Good
Best support
Massive healing. Buffs AP, range & healing. Reduces and reflects damage taken. Dispels effects.
+
Short
+
Low
+++
Good
Has knockback & dispel. Can reduce AP & MP.
++
Average
++
Fair
Buffs Power, Dodge & MP. Protects allies with Living Bag. Extra Prospecting provides better drops. Major healing with (Bribery).
+++
Long
++
Moderate
++
Fair
Reduces range, AP & MP. Has an attack that reduces MP. Summons distract enemies.
+++
Easy
+++
Good
Greatly reduces damage taken. Provides temporary immunity. Has a variety of glyphs which have various effects.
++
Medium
+
Low
++
Good
Can teleport. Reduces AP & MP. Has an attack that reduces AP. Has temporary immunity and damage cancelation.
+++
Easy
+
Limited
Buffs damage & HP.
+
Limited
+++
High

+
Limited
Can jump. Has knockback as an attack and a support spell.
++
Average
+++
Good
Buffs Damage, Lock and Dodge. Can easily move through the map and accommodate allies and enemies
+
Limited
+++
High
Very powerful under level 100.
++
Fair
Can push enemies, or easily escape via teleportation or cowardly mask. Most spells cost a moderate amount of AP.
++
Average
+++
Good
Gives minor buffs to damage, AP, MP & HP. Reduces damage taken. Moderate healing. Resurrects teammates.
++
Medium
++
Moderate
++
Fair
Summons distract enemies, have knockback attacks, and reduce AP.
+
Difficult
+++
Good
Buffs MP. Protects against MP loss and dodge lock. Master in map manipulation, can lower the resistance (by increasing damage taken) of monsters, can heal with barrel or dodge lock enemies with Pandawasta
+
Limited
++
Moderate
+++
Good
Can dispel and carry & throw allies & enemies. Has knockback. Prevents dodge lock. Reduces damage and the length of buffs. Disables weapon usage.
+
Difficult
++
Fair
Buffs AP, MP and Damage. Can Unbewitch
+++
Long
+++
High
Deals good Area of Effect damage
+++
Good
Has knockback and attract. Can swap places with a bomb, knockback attackers and make doubles. Bombs distract enemies.
+++
Easy
++
Fair
Protects allies. Moves allies and enemies. Moderate healing. Increases ally damage.
+
Limited
+++
High
+
Limited
Can step back to avoid damage. Reduces dodge.
+++
Easy
+
Limited
Area of Effect attacks often hurt allies. The Inflatable provides minor healing and buffs MP.
+++
Long
+++
High
Best Area of Effect damage
++
Fair
Has dispel. Reduces Intelligence, AP, AP resistance, MP & MP resistance. Has temporary immunity. Summons distract enemies.
++
Average
+
Limited
Makes an ally invisible. Buffs Critical Hits.
++
Medium
+++
High
+++
Good
Has invisibility. Has knockback as an attack and a support spell. Reduces MP. Double distracts and locks enemies.
++
Average
++
Fair
Buffs AP. Protects against AP loss. Reflects damage taken.
+++
Long
++
Moderate
+++
Good
Can jump and teleport. Reduces AP resistance. Attacks reduce AP. Steals AP with an attack and a support spell. Is able to manipulate the map in a variety of ways.
Builds are subcategories of classes.
Character Faces
Edit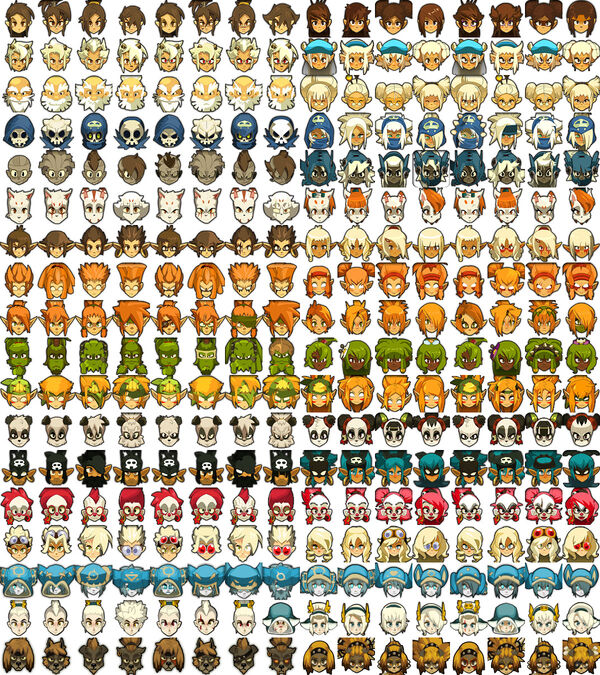 Incarnations
Edit
Incarnations are special classes.
As is usual for Ankama, names are anagrams, references, or in-jokes from the developer team.
Feca, Iop and Sram are meant to have been the first three classes created, so the developers named them after their favorites among the various snacks they consumed when first creating the game (coffee, yogurt drinks, and chocolate), and the names have nothing to do with the classes themselves.