GM Wabbit
is an aggressive
monster
.
Locations
Edit
Characteristics
Edit
Level
Stats
Resistance (%)
Resistance (Linear)
Resistance (Other)
80
1,200
9
5
24
43
33
40
-6
-15
0
0
0
0
0
64
64
0
0
1
To reach GM Wabbit enter the tunnels at (26,-8), take the bottom exit then go through the tunnel at (26,-7) and walk into the right corner at (25,-7), as shown in the image below. You will appear at the lab at (25,-7) and the only exit will take you to the GM Wabbit at (25,-8). A ladder from this room leads to the surface at (25,-8).
The respawn time is around 25 minutes after a character has gone through the ladder.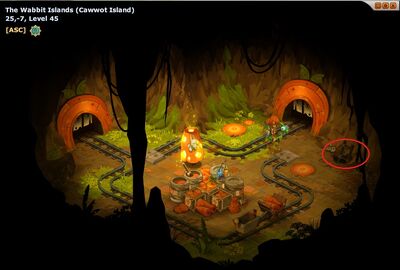 Ad blocker interference detected!
Wikia is a free-to-use site that makes money from advertising. We have a modified experience for viewers using ad blockers

Wikia is not accessible if you've made further modifications. Remove the custom ad blocker rule(s) and the page will load as expected.