The feature(s) mentioned on this page have been removed from the game, and are merely left on the Wiki for historical reasons.
The Quaquack fishing game was a mini game in the Trool Fair.
It is found at (-12,-40).
Information
Edit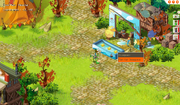 The aim of the game is to simply gather Fake Quaquacks and then exchange them for prizes. You must first buy a Fishing Rod for Quaquack for 10 kamas from Skroo Gee, equip it and then, as if you were normally fishing, click upon one of the quackacks and gather it. The catch rate is 100%.
Each rod only lasts one use, so you have to buy a rod each time you wish to gather a quackack.
When you have a Fake Quaquack you may exchange it to Skroo Gee for a random prize. All of the prizes have a similar rate, except the Quaquack which is much rarer. The prizes are: