Skeleton Dungeon is a dungeon.
Skeleton Dungeon is found at (10,15) in The Cemetery.
Entry requires giving a Skeleton Dungeon Key to Klik Klak, which is consumed.
In order to get to the entrance of Skeleton Dungeon you must stand on the tile to the top left of the map, which causes one of the coffins to slide aside revealing the entrance.
Mobs do not vary. Challenging is possible.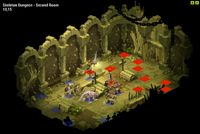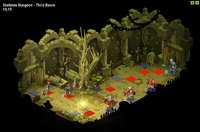 Upon completing the dungeon players will receive the Summoning of Chaferfu spell.
It is also the only place to find Ronin Chafer and Primitive Chafer.
Ad blocker interference detected!
Wikia is a free-to-use site that makes money from advertising. We have a modified experience for viewers using ad blockers

Wikia is not accessible if you've made further modifications. Remove the custom ad blocker rule(s) and the page will load as expected.