The Dragon Pig's Maze is a maze, it leads to the Dragon Pig Dungeon.
The Dragon Pig's Maze is an area of the Amaknean Continent found underground in the Porco Territory at [-1,33]. The entrance can be found in the small mine.
Entry requires giving a Dragon Pig's Maze Key to Fwed, which is not consumed.
Slab Room
Edit
This is where you start. There are portals leading to different rooms of maze.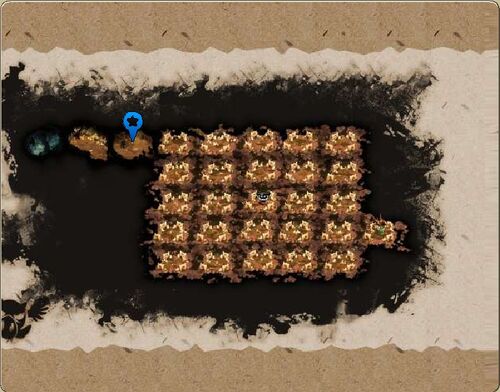 The blue arrow marks the Slab Room
Entering the maze gives you the transformation Turns you into a Dragonette Pig, which gives you the appearance of a pig (though no other effects).
Each room in the maze has 4 exits, one or two of which are usually open.
Exits are guarded by doors, which open and close according to where you came from.
Some of the exits don't have doors at all.
All doors with exits close after you passed through them, so it's usually not possible to get back to the room you came from.
When entering a room, the exits at right angles are the ones which are open.
Doors close as soon as someone passes through them, so only one player can pass a door at a time.
The goal is to reach room 13, where you can enter the Dragon Pig Dungeon by giving both the Dragon Pig's Maze Key and Dragon Pig Den Key to Fwed.
Ad blocker interference detected!
Wikia is a free-to-use site that makes money from advertising. We have a modified experience for viewers using ad blockers

Wikia is not accessible if you've made further modifications. Remove the custom ad blocker rule(s) and the page will load as expected.