The Tynril Lab is a dungeon.
Formerly known as Tynril Lab then The Tynrils' Laboratory.
The Tynril Lab is found at (-53,20) in the Dark Jungle.
Entry requires giving a Tynril Lab Key to Muleze, which is consumed.
Mobs do not vary. Challenging is possible.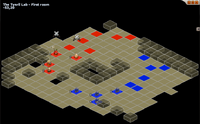 Regardless of the number of characters, the final mob will always contain all four Tynrils. Their levels (and health points) vary according to the number of characters:
4 or less characters: level 140
5 characters: level 175
6 characters: level 210
7 characters: level 245
8 characters: level 280
There are a large number of idols which are not compatible in this dungeon.
Upon completing the dungeon players will receive a Kimbo's Canopy Key and a Tynril Relic.
It is also the only place to find Disconcerted Tynril, Dismayed Tynril, Perfidious Tynril and Stunned Tynril.
Ad blocker interference detected!
Wikia is a free-to-use site that makes money from advertising. We have a modified experience for viewers using ad blockers

Wikia is not accessible if you've made further modifications. Remove the custom ad blocker rule(s) and the page will load as expected.