Hi, I'm -Simon, I like long walks down the stairs and into my computer room, I like to eat fancy food like pizza poppers right out of the microwave. Lol enough about my dating creteria, this is Dofus.
My Character
Edit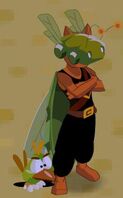 I play on Rushu Server because my friend showed me dofus and played that server. My Ecaflip is lvl 78 and is a str Eca. He got pwned by the update and so I still have AoN at lvl 5 and I had put 3 lvls into bluff because I was a wee noobish during that time. I don't have sword skill, never could afford it. I lvled pretty easily up to lvl 40 with AoN not being gay and all. I then made a eni instead ended being a full regen eni. Then I quit when I got WoW. I played WoW for 2 months or so. Then when there was 2x exp for a week I made a wind Sac, got him to 40, then it dced to much and I quit for another 3 months. Never could keep any of the good guilds I found this way. Then I started playing my eca again after I found out they made regen eni's suck. Ended up joining the Twilight Guild.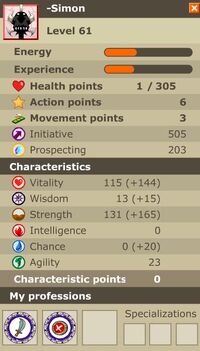 I'm currently lvl 78, probably wont be when you read this. I got 2 proffessions, sword smith and shield smith. I recently got shield smith after getting sword smith to 30. Sword skill is lvl 45 now. My brak lvl alignment is 21. Got some funny stats, I had put up vitality because i was once a AoN before a update so my str is low. I scrolled my wisdom. I have natural 30 agil so I can equip Sharp Claw without wearing anything. I'm puuting my stats all into str until its 200 now.
My Eca Luck
Edit
I have some wut a luck that my friends and Guild like. It's not finding items though, its finding monsters. I've found lots of good mob groups and rare stray mobs. None in a dungeon of course.
Some monters I've found astray:
3x Minotoror
1x Moowolf
1x 490 group of Kaniger (5 lvl 60s, 2 lvl 80s, and a Coco Blop)
2x Arachnid group in the attic
1x Royal Tofu