Wa Wabbit's Warren is a dungeon.
Formerly known as Cawwot Dungeon.
Wa Wabbit's Warren is found at (28,-12) in Gwimace Island.
To get there see the following image:
Entry requires giving a Wa Wabbit's Warren Key to Wabbit Guawd, which is consumed.
Mobs do not vary. Challenging is possible.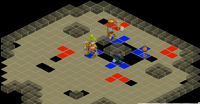 There's no specific reward from Wa Wabbit's Warren except the chance to find Wa Wobot, Black Wo Wabbit, Tiwobot, Whitepaw Wabbit and Wobot.
Previously, Wa Wabbit's Warren had 8 rooms.
Ad blocker interference detected!
Wikia is a free-to-use site that makes money from advertising. We have a modified experience for viewers using ad blockers

Wikia is not accessible if you've made further modifications. Remove the custom ad blocker rule(s) and the page will load as expected.